Beaches of Pomonte
Beach "Le Scalette"
The small and quiet beach with pebbles and stones is just a few steps from the hotel entrance away. The water is very clear in this corner of the island. There is no beach chair rental, but we offer our guests, as long as it has, umbrellas for the beach.
Beach "del quartiere" (or beach "del Relitto" from the wreck)
Small gravel beach, just 150 meters from the hotel away, with a short and pleasant walk, partly free and partly equipped with umbrella rental, which also rents pedal boats and sun loungers. The pedal is ideal for visiting the wreck "Elviscott", which is just a few meters from the beach away. There is also a small bar and toilets.
Scogliera del Calello and Cala Maestrale (Rock of Calello)
Granitic rocks from which are stone slabs have formed and therefore they are very convenient for sunbathing. This is also a good starting point for diving.
Beach of Ogliera
A pebble beach, which is accessible by foot on a path starting from the hotel. This beach is ideal for those who want no crowds around.
Beaches around Pomonte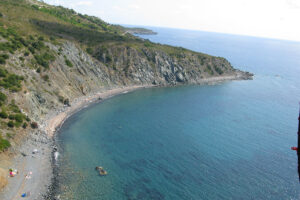 Il Giardino / Le Tombe
2 km from Pomonte away is the beach, which is not only accessible by boat, but also by foot on a path of about 200 meters between the wild Mediterranean maquis. This is where two beaches meet with dark gravel, almost black, which are very warm while always blowing a small pleasant breeze. This wild and unspoilt beach is one of the most beautiful beaches in Italy because of the transparency of the sea and its impressive landscape consisting of criss-crossed with quartz rock.
Beach Chiessi
Pretty village only 1 km from the Pomonte away, characterized by a small pebble beach, which is protected on the sides of the imposing cliffs and flat rocks gently leads to the sea, which are very convenient. This location is very famous for windsurfers and kite-surfing.
Beach Punta Nera
The small but charming beach is a real niche untouched nature and is only accessible by boat.
Beach Fetovaia
Fetovaia is located a 5-minute drive from Pomonte. It is one of the most beautiful sandy beaches of the island. Also associated with hourly bus that leaves from the village square and allows guests to visit other beaches without to take their car.
Beach Seccheto
Located less than 5 km from Pomonte is Seccheto together with Fetovaia and Cavoli one of the most popular beaches on the "Costa del Sole". This beach is also connected by bus.
Beach Cavoli
Cavoli is about 10 minutes by car from Pomonte away. The sandy beach is most visited by young people. A beautiful bay with a beautiful sandy beach of granite sand. On the beach there are bathing facilities and free spots. This beach is also connected by bus, which is very convenient because there are less parking spaces, especially in high season.
Beach Campo Lo Feno
A series of connected beaches with long stretches of large round rocks. Ideal for those who are looking for a empty beach, even in high season. The best way to reach these beaches is by boat. Here you will find peace and absolute privacy but without comfort.